Dieses Archiv enthält alle Reviews der CDs, welche in der Lauschbar-Geschichte als auch in der mit der KW 2012-50 eingstellten Rubrik 'CD der Woche' vorgestellt wurden.
CD-Rezensionen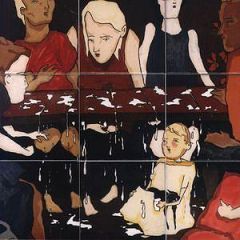 Mogwai
Mr. Beast
Rock Action/Pias
3.3.2006
Genre:
Post Rock
Seit ihrem 97er Debüt "Young Team" verfolge ich mit Interesse den Output dieser Post-Rock-Band aus Glasgow. Mit schöner Regelmäßigkeit veröffentlichte sie bisher ca. alle 2 Jahre ein neues Album, von denen auch schon ihr drittes Werk "Rock Action" aus dem Jahre 2001 in der Lauschbar (13) vorgestellt wurde. Nun also der fünfte Streich. Dieser zeigt die Schotten auf dem Höhepunkt ihres bisherigen Schaffens. Das Markenzeichen der Vorgänger-Alben – bedächtig, mittels multipler Gitarrenphrasen aufgebaute monumentale Soundgebirge – ist auch hier noch vertreten, jedoch kommt jetzt auch das Piano nicht mehr zu kurz und die Songs sind noch besser auf den Punkt gebracht. "Selbst wenn es lauter wird, flechtet die Band reichlich Pop-Appeal in ihr kontrolliertes Unwetter, das immer wieder Ruhepausen läßt, in denen der eben noch prasselnde Regen an den Blatträndern abtropft." (Visions)
Absolut genial das zentrale sechste Stück "Friend Of The Night" !