Dieses Archiv enthält alle Reviews der CDs, welche in der Lauschbar-Geschichte als auch in der mit der KW 2012-50 eingstellten Rubrik 'CD der Woche' vorgestellt wurden.
CD-Rezensionen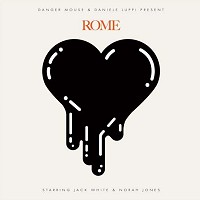 Danger Mouse & Daniele Luppi
Rome
Parlophone / EMI
20.5.2011
Genre:
Italian Soundtrack Retro
CD der Woche 2011-35
Langsam wird mir der Mann unheimlich: alles, was Brian Burton a.k.a. Danger Mouse als Produzent u. Musiker anpackt, hat Hand und Fuß, siehe Gnarls Barkley oder zuletzt Broken Bells (s. Archiv), so auch sein neuestes Projekt, das er zusammen mit dem Italien-stämmigen Komponisten u. Pianisten Daniele Luppi über den Zeitraum von 5 Jahren verfolgt hat, und dessen Ergebnis jetzt vorliegt. "Rome" ist eine schwelgerische Hommage an die Filmmusik italienischer Komponisten Ende der 60er, Anfang der 70er, allen voran Morricone. Die Platte ist zwar schon im Mai erschienen, ich habe die Vorstellung aber bewußt bis jetzt – wo schon der Atem des Herbst zu spüren ist - aufgeschoben, denn mit ihrer schwermütigen Eleganz ist sie ganz eindeutig eine Herbst-Platte.
Burton u. Luppi sind bereits seit ein paar Jahren befreundet, und Luppi, der die Soundtracks zu einigen bekannten Filmen u. TV-Serien geschrieben hat (u.a. Sex & The City), war auch schon an den o.g. Projekten von Danger Mouse beteiligt. Die lange Entstehungsgeschichte des Albums hängt damit zusammen, daß sie für eine möglichst authentische Stimmung die Stücke in den Original-Studios in Rom einspielen wollten, mit den Instrumenten von damals u. mit den Musikern von damals! Ein weiterer Clou sind 2 prominente zeitgenössische GastsängerInnen: Jack White (The White Stripes, The Dead Weather) u. Norah Jones. Beide passen sich ausgezeichnet in das Konzept ein, bringen mit ihren spezifischen stimmlichen Charakteristiken aber auch ihre eigene Note ein: White eine bluesig-verrauchte, und Jones eine chanson-hafte.