Dieses Archiv enthält alle Reviews der CDs, welche in der Lauschbar-Geschichte als auch in der mit der KW 2012-50 eingstellten Rubrik 'CD der Woche' vorgestellt wurden.
CD-Rezensionen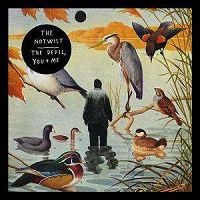 The Notwist
The Devil, You + Me
City Slang / Universal
2.5.2008
Genre:
Post Rock
CD der Woche 2008-22
6 Jahre hat das sympathische Trio aus Weilheim seine Fans auf ein neues Album warten lassen. Im Gegensatz etwa zu Portishead, die kürzlich nach 11 Jahren nachlegten, war The Notwist in diesen 6 Jahren aber ständig präsent, sei es live oder in ihren diversen Nebenprojekten wie Console oder 13&God (ein gemeinsames Projekt mit den Alternativ-Rappern von Themselves aus den USA, Album 2005).
Und so überrascht das neue Werk auch nicht wirklich, sondern enthält die schon vom Vorgänger-Album "Neon Golden" her bekannte, souveräne Mischung aus Indie/Post-Rock, Jazz und Electronica. Neu ist die Einbindung eines Orchesters in einigen Songs. Zwar fehlt ein knackiger Hit der Marke "Pilot", aber das neue Album gefällt mir insgesamt sogar besser als Neon Golden".
Das Album erfordert Geduld und ein paar Durchläufe, um die vielen Feinheiten zu erfassen, also nichts für den flüchtigen Internet-Download-Konsumenten ...