Dieses Archiv enthält alle Reviews der CDs, welche in der Lauschbar-Geschichte als auch in der mit der KW 2012-50 eingstellten Rubrik 'CD der Woche' vorgestellt wurden.
CD-Rezensionen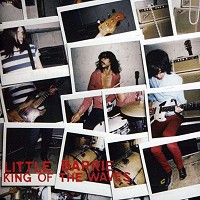 Little Barrie
King of the Waves
Bumpman
29.7.2011
Genre:
Garage/Blues/Surf Rock
CD der Woche 2011-44
Im schnelllebigen Musik-Biz ist es schon etwas ungewöhnlich, wenn sich eine Band für ein neues Album 5 Jahre Zeit lässt, wie in diesem Fall des 3. Albums des seit 2000 bestehenden englischen Trios. Was immer die Hintergründe für die lange Pause auch sein mögen, sie hat sich ausgezahlt, denn das neue Album markiert einen deutlichen Entwicklungsschritt der Band im Vergleich zum Vorgänger "Stand Your Ground" aus dem Jahre 2006 und liefert eine noch perfektere Mischung aus Rockabilly, Surf und Garage Rock im Geiste der Ende der 60er, Anfang der 70er auf der einen Seite und zeitgenössischem Rave Rock auf der anderen.
Wer die Band nicht kennt, aber alte Heroes wie Hendrix und Cream und/oder aktuellere Bands wie die Arctic Monkeys oder Kasabian mag, dem sei dieses Album wärmstens empfohlen ...