Dieses Archiv enthält alle Reviews der CDs, welche in der Lauschbar-Geschichte als auch in der mit der KW 2012-50 eingstellten Rubrik 'CD der Woche' vorgestellt wurden.
CD-Rezensionen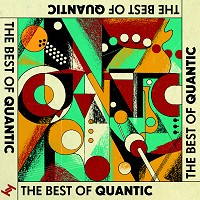 Quantic
The Best Of
Tru Thoughts
9.9.2011
Genre:
Latin/Soul/Funk/NuJazz/Downbeats
CD der Woche 2011-42
Quantic ist der Solo-Künstlername des vielseitigen englischen DJs, Produzenten und Multi-Instrumentalisten William Holland. Neben seinen Solo-Arbeiten hat er auch noch an einigen Band-Projekten mitgewirkt, von denen das Quantic Soul Orchestra das bekannteste sein dürfte, sowie mit verschiedenen SängerInnen kollaboriert, u.a. Spanky Wilson und Alice Russell. Den Großteil seiner Arbeiten seit 2001 hat er auf dem Label Tru Thoughts veröffentlicht, welches nun also mit dieser Compilation (2CDs, 32 Tracks, 145min) das 10-jährige Jubiläum ausgiebig feiert und einen sehr guten Überblick über sein bisheriges Schaffen bietet.
Bislang waren mir fast nur seine Arbeiten mit dem Quantic Soul Orchestra bekannt (s.a. Archiv), mit dem er ja den Funk und Soul in seiner ganzen Bandbreite auslotet(e). Die Compilation offenbart nun auch sein ausgesprochenes Faible für Reggae und Latin in den verschiedensten Facetten. Diese Vorliebe hat ihn 2007 sogar dazu veranlasst, seinen Hauptwohnsitz ganz nach Kolumbien zu verlegen.
Eine wirklich schöne, abwechslungsreiche und stimmungsvolle Zusammenstellung – eine wahre Fundgrube für Fans der o.g. Stilrichtungen ...