Dieses Archiv enthält alle Reviews der CDs, welche in der Lauschbar-Geschichte als auch in der mit der KW 2012-50 eingstellten Rubrik 'CD der Woche' vorgestellt wurden.
CD-Rezensionen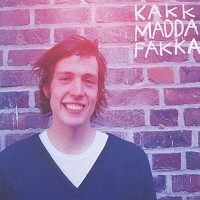 Kakkmaddafakka
Hest
Bubbles/Groove Attack
25.2.2011
Genre:
Indie Pop / Rock
CD der Woche 2011-20
Noch eine Platte (s.a. CD der letzten Woche) passend zur aktuell laufenden ISWI (Internationale Studentenwoche in Ilmenau) ...
Die seit 2005 bestehende, vielköpfige Band aus Norwegen mit dem lustigen Namen erlebte ich zum ersten Mal live auf dem Melt!-Festival 2009, wo sie bei ihrem Auftritt eine mitreißende und ausgelassene Mixtur aus Soul, Swing, Funk, Ska und Rock hinlegten. Ihr erstes Album "Down To Earth" erschien 2007 nur in ihrer Heimat, was ich mir dann nach dem Melt!-Auftritt extra von Freunden aus Norwegen besorgen ließ. Das nun vorliegende 2. Album erscheint zum Glück aber jetzt auch offiziell hierzulande und wurde von keinem Geringeren als Erlend Oye (Whitest Boy Alive, Kings Of Convenience) produziert. Und dessen Handschrift hört man auf dem Album deutlich heraus. Die Jungs gehen deutlich konzentrierter und gereifter zu Werke als noch auf dem Debüt. Die Ska- und Swing-Anteile sind deutlich reduziert. Geblieben ist party-tauglicher Indie Pop mit Anteilen von Weltmusik, Reggae und Disco.
Eine rundum vergnügliches und kurzweiliges Album, das eigentlich nur einen Makel hat: daß es nach 9 Songs und 30:26 min schon vorbei ist ...