Dieses Archiv enthält alle Reviews der CDs, welche in der Lauschbar-Geschichte als auch in der mit der KW 2012-50 eingstellten Rubrik 'CD der Woche' vorgestellt wurden.
CD-Rezensionen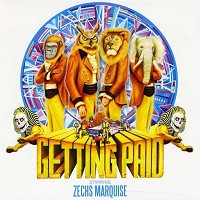 Zechs Marquise
Getting Paid
Rodriguez-Lopez / Cargo
30.9.2011
Genre:
Prog/Psych/Art Rock
CD der Woche 2012-2
Lange keine reine Prog Rock Platte hier vorgestellt, da kommt das zweite Studioalbum dieser 2003 gegründeten texanischen Band gerade recht. Wenn man als Hintergrundinformation weiß, dass in der Band zwei Brüder von The Mars Volta-Gitarrist Omar Rodriguez-Lopez mitmischen und das Album auch auf dessem Label erscheint, dann kann man schon ungefähr erahnen, wohin die musikalische Reise geht. In der Tat gibt es Bezüge zum hyper-kreativen Prog-Rock von The Mars Volta, im Sound von Zechs Marquise lassen sich jedoch auch mehr Einflüsse des Prog Rocks der 1970er Jahre, Marke King Crimson, ausmachen: die Tempo-Wechsel innerhalb der zum großen Teil rein instrumentalen Stücke sind nicht ganz so drastisch, den einzelnen Instrumenten wird etwas mehr Raum gelassen. Ein Album voller überbordernder und abgefahrener Ideen, gleichermaßen verspielt wie wohl überlegt, das den geneigten Hörer zwar fordert, ihn aber auch nicht überfordert ...