Dieses Archiv enthält alle Reviews der CDs, welche in der Lauschbar-Geschichte als auch in der mit der KW 2012-50 eingstellten Rubrik 'CD der Woche' vorgestellt wurden.
CD-Rezensionen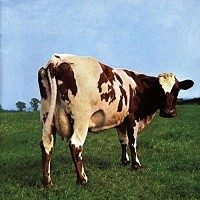 Pink Floyd
Atom Heart Mother (Remastered)
EMI
23.9.2011
Genre:
Symphonic/Prog/Folk Rock
CD der Woche 2011-39
Auch wenn es sich hier nicht um ein wirklich neues Album handelt, nehme ich die große Re-Release Kampagne mit remasterten Neuveröffentlichungen aller Alben der britischen Progressive Rock Pioniere zum Anlaß, an dieser Stelle mal dieser Band zu huldigen, die zu meinen absoluten Favoriten gehört. Wenn man von der Periode nach dem Ausscheiden von Roger Waters mal absieht, hat die Band durchweg faszinierende und abwechslungsreiche Alben veröffentlicht. Für diese Vorstellung habe ich bewußt ein Album aus der experimentellen Früh- und Selbstfindungsphase der Gruppe ausgesucht (bevor sie ab 1973 mit "Dark Side Of The Moon", "Wish You Were" und "The Wall" ihre absoluten und breit bekannten Konzept-Meisterwerke ablieferten).
"Atom Heart Mother" erschien im Oktober 1970. Die anderen Alben der Frühphase mögen vielleicht die genialeren Einzelmomente besitzen, dieses jedoch ist für mich das insgesamt geschlossenste und stimmigste aus dieser Periode. Die A-Seite wird komplett von der fast 24-minütigen "Atom Heart Mother Suite" ausgefüllt, einem ambitionierten symphonischen Werk mit Orgeln, Streichern, Chören und allerlei Samples aus Natur und Technik. Seite B enthält 3 recht anheimelnde, hippieske Songs, bevor das Album mit dem 13-minütigen "Alan's Psychedelic Breakfast" abschließt, in das wieder Samples – hier von einem Frühstück – eingebaut sind.