Dieses Archiv enthält alle Reviews der CDs, welche in der Lauschbar-Geschichte als auch in der mit der KW 2012-50 eingstellten Rubrik 'CD der Woche' vorgestellt wurden.
CD-Rezensionen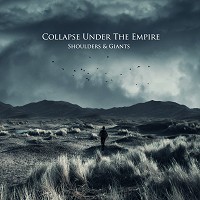 Collapse Under The Empire
Shoulders & Giants
Sister Jack/Cargo
21.10.2011
Genre:
Epic Post/Trip-Rock
CD der Woche 2011-43
Vor knapp 2 Jahren begeisterte mich das Hamburger Duo Chris Burda und Martin Grimm auf ihrem 2. Album "Find A Place To Be Safe" (s. Archiv) mit ihrer frischen Version von Post-Rock, die weniger auf die bekannte Laut-Leise-Dynamik (etwa Mogwai), sondern vielmehr auf vielschichtige und rauschhafte Arrangements setzte. Mit ihrem neuen Opus setzten die beiden diesen Weg konsequent fort. Das Ergebnis sind noch brilliantere und noch ergreifendere Stücke mit perfekter Balance aus Energie und Melodie, aus Härte und Sanftheit. Inbesondere die harmonische Einbettung der elektronischen Mittel in das rockige Grundgerüst gelingt noch besser (und rückt den Sound z.B. etwas näher an 65daysofstatic).
Das Album ist als Teil 1 eines Konzeptwerkes angelegt, das von der menschlichen Existenz, dem Traum vom Aussteigen, dem Leben in absoluter Freiheit, der Isolation und dem Tod handelt. (Teil 2 soll in einem Jahr erscheinen.)
Wunderschön und süchtig machend ...