Dieses Archiv enthält alle Reviews der CDs, welche in der Lauschbar-Geschichte als auch in der mit der KW 2012-50 eingstellten Rubrik 'CD der Woche' vorgestellt wurden.
CD-Rezensionen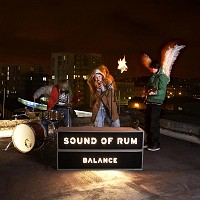 Sound Of Rum
Balance
Sunday Best / PIAS
20.5.2011
Genre:
Rap / Jazz / Rock
CD der Woche 2011-37
Das blutjunge, seit 2008 existierende Trio aus South East London überzeugt auf seinem Longplayer-Debüt mit einer reifen Mixtur aus Rap, Jazz und Rock. Im Zentrum stehen zwar die Raps und Spoken Words der Poetry-Slam-erfahrenen Kate Tempest, die mit einer kraftvollen Stimme aufwartet, aber erst die mal subtile, mal groovende Begleitung durch Gitarrist Archie Marsh und Drummer Ferry Lawrenson machen den Reiz der Musik des Trios perfekt. Mit Mainstream-Rap hat das Ganze also wenig zu tun, vielmehr haben sie ihre Vorbilder sowohl im Underpground Rap, als auch im Jazz und Rock. Dabei werden Assoziationen zu Speech Debelle, The Cinematic Orchestra und den neueren Alben von den Sofa Surfers wach.
Bei einigen Stücken sprudeln die Worte aus Kate in einer Geschwindigkeit heraus, dass dem Nicht-Muttersprachler nur der Blick in das Booklet bleibt, um die Texte zu verstehen. Besonders eindringlich sind für mich denn auch die etwas langsamer gehaltenen Stücke.
Nach dem ersten Durchlauf bleibt zunächst vielleicht ein durch die Rap-Form entstehender Eindruck der Gleichförmigkeit, bei mehrmaligem und genaueren Zuhören jedoch kann man immer wieder neue feine Details der Arrangements erkennen.