Dieses Archiv enthält alle Reviews der CDs, welche in der Lauschbar-Geschichte als auch in der mit der KW 2012-50 eingstellten Rubrik 'CD der Woche' vorgestellt wurden.
CD-Rezensionen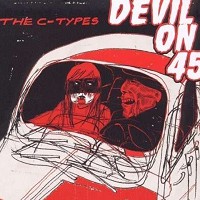 The C-Types
Devil On 45
Hazelwood/Rough Trade
4.2.2011
Genre:
Surf Rock / Mariachi
CD der Woche 2011-14
The C-Types? Da war doch was? – werden sich jetzt vielleicht einige bc-Clubgänger fragen. Richtig! Die Band aus Hessen sorgte (zusammen mit den Raycats) zur letzten Mexikanischen Weihnacht im bc-Club für ausgelassene Stimmung (s.a. Foto-Galerie zu dem Event). Nun liegt also das Debüt der Band vor, in der übrigens 2 Mitglieder von Mardi Grass.BB mitmischen, und man kann damit wahlweise in Erinnerungen an die MexXmas schwelgen, oder nachhören, was man verpasst hat :) ...
Das Schöne an den C-Types und der Platte ist, dass sie den bekannten Surf Sound mit anderen Stilen mischen, vorzugsweise Mariachi, aber auch Tango und Blues, und damit ein recht abwechslungsreiches Album erschaffen haben. Es beginnt mit 3 flotteren, tanzbaren Nummern. Danach dürfen es auch mal melancholische und nachdenklichere Töne sein.
Vielleicht hört man das eine oder andere Stück ja im Soundtrack zum nächsten Tarantino-Movie ...